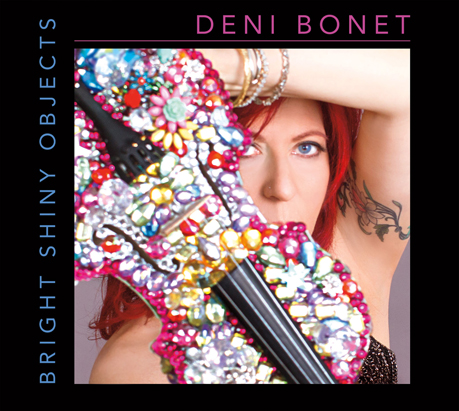 BRIGHT SHINY OBJECTS is the brand new release from NYC-based violinist & singer/songwriter, Deni Bonet, released on Zip Records, (distributed by Sony/RED, US & PIAS/Rough Trade, Benelux). Available now on AMAZON, BEST BUY, TARGET, and wherever real CD's are still sold. Listen and follow Deni Bonet on Spotify! 
Soloing with the Symphonic Pops of Long Island
Back by popular demand! Deni will be returning on June 26, 2022 as the featured soloist with the Symphonic Pops of Long Island under the direction of Maestro Stephen Michael Smith for a program of her original music with the Symphony! The concert will take place at 8 PM in Heckscher Park in Huntington, LI. Enjoy music under the stars!
HAPPY HOUR LIVE on YouTube 
Deni's "HAPPY HOUR LIVE" concert series is still available for streaming from Youtube! It's always a fun party with listeners from around the world, including Brazil, Canada, Australia, Japan, N. Ireland, the Netherlands, Tanzania, Colombia, Uruguay, Spain, and all over the USA.Here's the YouTube link! And while you're there, please subscribe to her YouTube channel. Thanks!
LIVE, IN-PERSON CONCERTS ON THE CALENDAR!
LIVE SHOWS ON THE CALENDAR! After a year of exclusively virtual concerts, we are so happy to announce that Deni will be performing several LiVE, IN-PERSON concerts as a duo along with guitarist/singer Chris Flynn! Check out her SHOWS page for upcoming concerts! BUT don't fret! If you live too far away to attend a live event, Deni will still be doing her streaming shows from YouTube LIve. Sign the mailing list for updates!
 
THE CHIEFTAINS FEATURED DENI at VERIZON CENTER, PHILLY MARCH 11, 2020
The legendary Irish band, The Chieftains asked Deni to sit in as a featured soloist during their Grand Finale at the on  March 11th!. This  was the Chieftains IRISH GOODBYE TOUR, and was be accompanied by Chris Flynn!!! They were supposed to also schuled to play with them at the  New Jersey Performing Arts Center. But sadly their tour was postponed until further notice. Here's a link to the performance! CLICK HERE.

 
BRILLIANT REVIEW IN FORBES MAGAZINE
Forbes profiled Deni's upcoming performance at Carnegie in the very prestigious Forbes Magazine. Here's the link.
Notable quotes: "Engaging, multi-talented violinist Deni Bonet."  "Unlike most violinists, she is not nailed to the floor. And she doesn't shy away from going head-to-head with the guitar player, having fun and breaking an erstwhile-stodgy image of the grand old instrument.
CARNEGIE HALL FEBRUARY 7 ENCORE PERFORMANCE SOLD OUT
Deni and her band performed to a SOLD OUT audience at Carnegie Hall on Friday, February 7th, 2020. This was Deni's fourth time playing a full set of her original music for the 6th Annual Chinese New Year Spectacular. Last year's concert was also a sell out! 
DENI SOLO WITH THE DANBURY COMMUNITY ORCHESTRA
On February 28th, Deni was the soloist with Danbury Community Orchestra under the direction of Maestro Stephen Michael Smith. They performed full orchestral arrangements of Deni Bonet's original music to a full house!
RECORDED IN ZANZIBAR IN JANUARY
Deni returned to Zanzibar for a couple of weeks in January 2020, where she took "The Stone Town Rockerz" into a recording studio to record tracks for her upcoming CD release.
Deni Bonet was made an ARTS ENVOY to Zanzibar, Tanzania this past August. She was selected to participate in the "Arts Envoy Program", with a grant supported by the U.S. State Department. There's only a small number of these grants awarded each year, so it was a terrific honor! She did a residency at the prestigious Dhow Countries Music Academy in Stone Town, which Deni called "the Juilliard of East Africa", teaching songwriting, rock and roll, and violin! She also mentored a local rock band, The Stone Town Rockerz. The month finished with a big concert in Dar es Salaam which was sponsored by the US Embassy of Tanzania. 
 
BLUE VIOLIN-SHAPED USB DRIVES NOW AVAILABLE
For all of you folks that don't have a CD player any more, check this out! We now have incredibly groovy blue violin-shaped USB drives with Deni's name on the back! They look just like the blue violin that you know her for! You can order a blue violin USB with your choice of any of Deni's CD's, plus you get 4 videos, too! They're only $15 each! Click HERE to get yours now!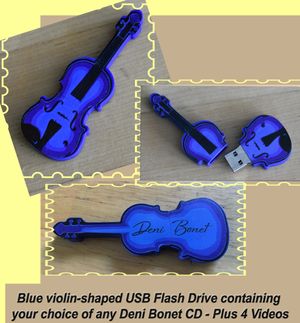 GORGEOUS USB DRIVES NOW AVAILABLE
We're now offering ALL of Deni's music in one beautiful, bright shiny USB Flash Drive! Over 70 tracks from ALL of her five CD's, miscellaneous rare tracks, demos, early versions of tunes, and all of her most recent videos. ALL on one chip available HERE for a very reasonable price! Get 'em while they're hot!
Follow Deni Bonet on Instagram
Follow Deni Bonet on Spotify